Kaz is a German woman in her twenties, currently doing a maths PhD in the UK. She is on the autistic spectrum, stutters, and has been dealing with clinical depression on and off since her teens; she considers all of these disabilities. She is also aromantic-tending-towards-homoromantic asexual and identifies as queer. She blogged as Zailyn at WP for a while, but can now be found at either Dreamwidth or Livejournal, where she writes about fandom, disability, feminism, asexuality, and sometimes even maths.
Kaz's note: First of all, this is not a 101-level post on either the asexuality or the disability side of things. However, I'm aware that asexuality isn't really an issue that is on most people's radars, so to anyone who doesn't know much about it I suggest you check out AVEN in general and the Wiki in particular before reading or whenever you run into something that doesn't seem clear.
Mod Note: Kaz & I talked and I've put in some links to terms as they come up.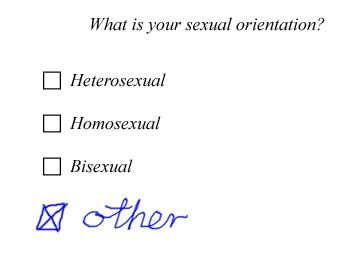 Talking about the intersection of asexuality and disability is pretty difficult, because "asexuality" gets another meaning in disability rights discourse: it's used to refer to the various stereotypes about disabled people's sexualities. People do often seem to realise that this is problematic when it's pointed out to them. However, what not so many people realise off the bat is that it goes beyond just "problematic".
The stereotypes in question actually consist of a wide variety of things tossed together, some of which are in line with asexuality but many of which seem to have little to do with asexuality or in fact to be entirely opposed to it (I am interested to see how the stereotype of the disabled woman not saying no because she feels lucky anyone wants her is supposed to relate to asexuality, for instance). What they have in common, however, seems to be: denying disabled people their sexual agency and the right to make decisions or have knowledge about their own bodies and sexualities. The stereotypes about disabled people's sexualities seem quite in line with the common tendency to consider us childlike, helpless and needing to be protected for our own good.
Asexual adults? Are not children. Nor do we (or, at least, should we) lack agency. In fact, the very existence of the asexual movement shows that we are in opposition to a lot of these ideas! We're organising, we're campaigning, we're demanding that our sexual identity should be recognised and considered valid; disabled people are stereotyped to not have a sexual identity at all. (There is a distinction between the lack of a sexual orientation and a sexual orientation incorporating lack of sexual attraction that most people miss, but that is crucially important in this context.) Taking all the stereotypes disabled people get hit with regarding sex and sexuality and claiming that they all boil down to making them like asexual people? Like me? Is something I actually find really offensive.
An example: the desexualisation of disabled people often gets used to justify giving them less extensive sex ed or no sex ed at all compared to abled people. However, saying this is because they're stereotyped as asexual entirely misses the fact that – asexual people need sex ed too! At the moment, it's true that a lot of us will probably need it less than most sexual people, but it is still necessary as a large portion of asexuals do end up having sex at some point in their lives. Also, if mainstream comprehensive sex ed ever gets away from the "put the condom on the banana" "tab A slot B" style of sex education and starts talking about things like sexual orientation, explicit consent, how to figure out whether sex is the right decision for you at a certain time, etc. – I'd argue that we need this kind of sex ed more than many sexual people, as being a sexual minority tends to lead to more confusion and needing to figure things out. (There's a traumatic experience I could have happily avoided if sex ed ran more in this direction.)
Also, using the name of my sexuality for these stereotypes obscures the fact that actually, they have negative effects for me, too. For instance, there is an astounding amount of ableism in the arguments people use to try and invalidate asexuality, ranging from "you should get your hormones checked!" over "that's a disability, not a sexual orientation" to "you're just all autistic!" You can imagine how the last one feels to me as an asexual autistic person! Worse, parts of the asexual movement buy into this and will talk about how they're not autistic, their sexuality is valid – unlike mine, apparently?
…hey, I recognise this argument! But wait a minute, we can't very well call it stereotyping disabled people as asexual if it's being used to invalidate the sexualities of asexual people.

Finally, the usual rebuttal of disabled people to these stereotypes seems to be "hey, we're sexual beings! We enjoy sex, we want to have it, you are entirely wrong!" My existence throws a monkey wrench into this argument, and monkey wrenches are not welcomed often. Also, because people use the same damn word for these things, my saying I am asexual in the disabled community can be interpreted as my affirming and reinforcing those stereotypes, which tends to make people rather angry. (And that's not even going into how I used to buy into this and got to feeling quite guilty about daring to be both asexual and disabled…)
So I get hit by ableism in the asexual community and asexophobia in the disability community. Why, hello there, intersectionality, I hadn't seen you for a while.
But what about outside of these communities? What specific challenges do asexual-and-disabled people face in their everyday lives?
This is the part where I start disclaimering everything because this is so very much due to my own experience and I can see that people with different disabilities or different experience of asexuality or in different situations would not have these problems, might have different problems that I don't. Partially because of what I've just mentioned and partially because the asexuality movement is still very much fledgling and not many people identify as asexual, I really haven't been able to speak to many (read: only one) other asexual disabled people about this.
But.
There is one huge, huge issue in my life that jumps out at me when I think about these things.
It goes like this. A lot of asexual people do not have the privilege of being able to assume they will meet a suitable romantic partner by chance, or in fact meet one at all.
As an asexual person, I need to ask myself: do I want a romantic relationship? If the answer is yes (in my case, the answer is "but how do I tell the difference between a romantic relationship and a deep friendship if you take out the sex part?" and a lot of confusion, but let's roll with it), I have to consider: who would I be interested in romantically? (Women.) And would I be willing to compromise and have sex as part of a romantic relationship? (No.) Or would I be willing to have an open relationship, with the other partner having sex elsewhere? (I'm not sure about this one, but let's assume no for now.)
So in my case, if I want a romantic relationship, I would need to meet a lesbian or bi female asexual /grey-a/other person who would be fine with never ever having sex. After some number-crunching, I have a rough estimate: about 0.1% of the population fit my criteria.
To compare, if we're estimating a homo-/bi-/pan/etc.-sexual rate of 4% in the overall population (which is a conservative estimate), a sexual lesbian still has about twenty times as many potential partners as I do just looking at the sexual compatibility.
Um. This is not looking good.
And it gets even worse from here. Because 0.1% is derived from the "1% of the population is asexual" estimate – but most of these people don't *know* they're asexual, not in those words, because asexuality is so little-known and invisible that most people have never even heard of it before. If I am trying to actively seek out a bi or lesbian asexual, I'm going to have to stick with people who actively identify that way – which is far below 1% of the population.
David Jay at the Asexual Underground goes into this, and concludes:
Just to recap: all you romantic asexuals out there have two options. Either you can move to a major metro area, pour your heart and soul into building a meetup scene and with a little luck find one other romantic asexual in your approximate age bracket. Or you can get on AVEN, spend a huge part of your life working on building up the community, get elected to the admod team and somewhere between fights over warning policies find true love. Them's the bones. Take 'em or don't.
And, you know, both of these options sound just a wee bit difficult for people on limited spoons.
In fact, here is where I start talking about what disability has to do with any of this.
A lot of disabled people have difficulty living on their own and need some form of support and care. As far as I can tell, the single clear socially-expected-and-acceptable form of such care, apart from hired aides or family (both of these only for some disabilities), is the romantic partner.
Back to me personally. There are things that a romantic partner I was living with could do that would make my life a lot easier, but which are quite difficult to arrange with friends. These are not necessarily big things or things that would commonly be considered "care"; for example, one serious problem I have is regular meals, and having someone where it is understood that we will eat breakfast/dinner at X time together every day bar other issues would not only mean that I'd actually manage to eat regularly and more healthily, but also help with a lot of my other problems (my morning going awry can easily lead to my getting nothing at all done all day). This is to be expected for romantic partners, but more unusual for friends living together and pretty much unheard of for flatmates who hadn't met before moving in. A routine in general would be much easier to stick to if there were someone acting as a touchpoint throughout parts of the day, and routine is both something I really need and something I struggle to put together. And more, and more, and more…
On various blogs of disabled people, I sometimes stumble across – the husband/wife did this. Or (if the partner is also disabled) I did this for the husband/wife. Small things, or large things. Helpful things. And I read that, and I think-
Chances are, I'm never going to have that.
I'm not honestly that upset about the relationship – this is why I say I'm more aromantic than homoromantic, and why people who identify as more romantic might have even more difficulties. Might even end up negotiating a relationship with a sexual person even if they identify as repulsed, which is something I want to avoid at all costs. But all the same I want, I need, the support and structure that living with a romantic partner could bring to my life.
Of course, the asexual community is trying to do something about the bleak outlook when it comes to ace-ace relationships. There's a growing asexual online dating scene – sadly of limited usefulness if you're looking for a relationship that's not long-distance – and DJ has some really awesome and radical ideas about breaking down the boundary between romantic and platonic relationships altogether and completely redefining how we do love and emotional intimacy. Even if you don't want to go that far, friends are often undervalued when it comes to these things. But setting up something specifically for the disability support a romantic partner would provide is something different from this, and something that would probably need a great deal of time and spoons that I can't really spare.
Except that I'll have to find the spoons somehow, because it's not as if I have an alternative.